Looking to create a website where your audience can browse through a range of video content? Just like they do on YouTube – view recommended content, like, subscribe and share videos. Be it movies, TV shows, sports clips, product demonstrations or even customer education videos (something like this). In this blog, we discuss the steps required in creating a YouTube-like video hosting website.
But why go through a complicated process, when a video CMS can help you achieve your objectives in a matter of minutes.
Even if you create a stellar YouTube-like website, you'd only get basic video playback options, and the chances of you building something like YouTube isn't realistically possible. We are talking about the details – a centralized studio to upload and manage your videos, AI-generated closed captions, a powerful recommendation engine, a simple process for uploading and embedding videos ahead, detailed video analytics, adaptive bitrate streaming and more.
If you only need basic functionalities, then creating your own YouTube-like website for video hosting is a good idea.
However, if you require much more detailed features, optimized video playback and a simpler video uploading process, then it's a good idea to opt for a video CMS that is hosted on your domain. Such a video CMS will have a YouTube-like interface developed by default and all you need to do is purchase one to start streaming your videos.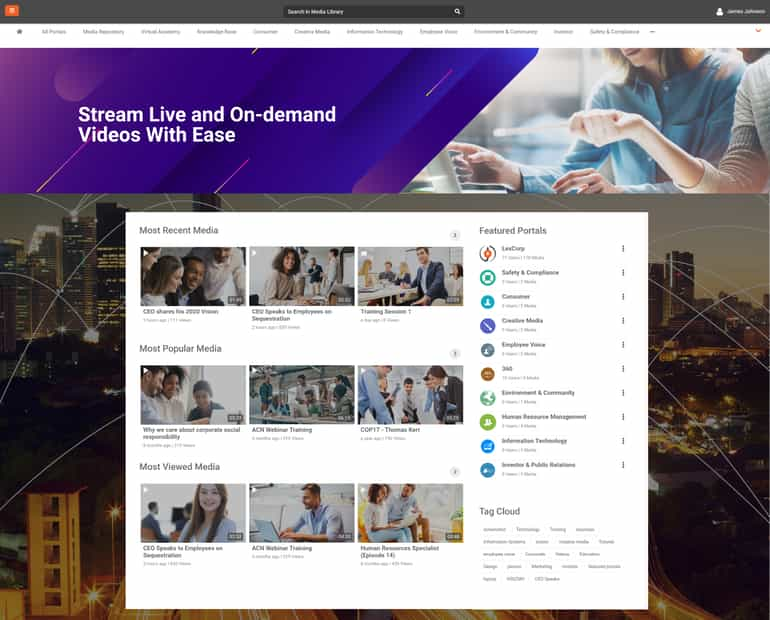 Building your own video hosting platform can be less costly, as opposed to purchasing a video CMS, which might cost a bit more. The decision is a classical build-vs-buy, and you can choose accordingly. Nevertheless, we will walk you through both of these options in this blog, and the pros and cons of each.
Option 1: Build a YouTube-like Video Hosting Platform on Your Website
The process of building a video hosting website like YouTube can be broken down into 4 major steps.
You need to purchase a domain and hosting service. The next step involves installing a CMS such as WordPress on your domain. You can skip the first two steps if you already have them configured. The next steps include installing a video theme to give your website a YouTube-like appearance and make the browsing experience more conducive for video. The last and optional step involves installing plug-ins to optimize the viewing experience.
1. Choose a Domain and Web Hosting
The first step is to get a domain and manage it through a domain host. Here you choose a domain name, check its availability and purchase it.
The next step is to get a web hosting service for your domain. This involves arranging the computing resources to store your website and make it available to users when they visit your domain over the internet.
You can read more on how to host a website here.
2. Install a CMS
We'd recommend installing WordPress, which is the most popular CMS in the world. One of the major benefits of using WordPress is that you get access to a range of plug-ins and themes. These will greatly help in creating a YouTube-like site for hosting videos, and we will discuss this shortly. Other reasons for choosing WordPress include it being SEO-friendly, and its open-source nature that helps you benefit from its huge community.
Some hosting providers may include easy one-click installations for Wordpress such as HostGator.
Read more on the other popular CMS options
Read more on how to install WordPress
Read more on how to choose a web hosting for WordPress
3. Install a Video Theme
Rather than building your own video site, it's a better idea to opt for a theme that easily does this for you. These themes will bring the appearance and functionality of your website closer to that of YouTube. You can play around with the theme and edit it according to your needs. Here are a few themes you can choose from to create a YouTube-like website:
You will need to go through the documentation of each theme to understand the video uploading and streaming process, integrations and the plug-ins you need to install.
4. Install Plug-ins
You can install various plug-ins to improve the functionality of your videos. This step is optional and may not be needed for many use cases. Some of the plug-ins may also be included inside the theme you select. Here are a few types of plug-ins that you can use:
Drawbacks of This DIY Approach
There are certain drawbacks of opting for a video theme instead of complete video CMS:
Option 2: Buy a Video CMS and Host It on Your Domain
The second option to create a video hosting site like YouTube is to purchase a video content management system (CMS) and host it on your domain. These usually come with a range of features to ensure smooth video playback through the browser. The plus point is that you don't need to build anything, and most of the required functionality is offered by default.
A video CMS offers two things – a video portal and a video library for content management. The video portal is what your audience gets to see. The video library is like the familiar YouTube studio, where content uploaders can add videos, share them ahead, define access (who gets to see them and who doesn't), view analytics or get an embed code to add them to standalone pages.
VIDIZMO EnterpriseTube
VIDIZMO EnterpriseTube is a video CMS that you can use, and it includes a range of features: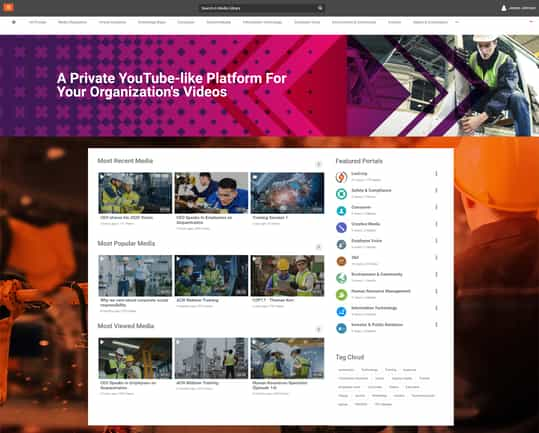 When to Opt for a Video CMS Rather Than Building a Video Hosting Site?
You may or may not want to opt for a video CMS. For instance, you are better off building a platform on your website if you are looking for a simple solution – to stream videos from YouTube, Vimeo or from any other source on your site.
However, if you need to retain ownership of your content, or restrict it to signed-in audiences, then a video CMS is better for you. Similarly, if you are looking for a quick and easy solution without getting into much development, then a video CMS is a better option. It is also a good option if detail is important for you. For instance, we at VIDIZMO have been in the video industry for 20 years and understand the challenges that occur in video streaming over the internet. Hence, we have designed our platform keeping these challenges in mind and are constantly improving it to provide the best user experience.
Learn More About all the Features Offered in VIDIZMO EnterpriseTube
Read our blog on Corporate YouTube